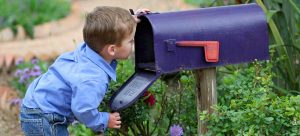 Direct mail is also known as direct marketing and it offers advantages of reaching the most likely buyers of products and services with a message that proves understanding of their needs and wants.
It is a compelling way to deliver a message right to your customers' hands.
Direct mail gives you competitive advantages in building and strengthening your brand, business or organization to help you stay ahead of your competition.
Produces Awareness
Mail creates and maintains your brand image.  Mail is able to personalize messages directly to audiences, and makes a product or service that much more relevant to each individual.
Brands and product images are enhanced with impressive four color artwork and are fully explained in a booklet or catalog to be read when the recipient is ready and willing to consider your offer.
Produces Sales Prospects
When purchases are expensive or complicated, closing a sale can require several approaches or personal contacts.  Direct mail offers a way to further qualify prospective customers.
Lists can broadly target likely purchasers.  The first mailing can prompt the return of a card requesting more information.  While prospects request more information, questions can be asked of the respondents to provide more qualifying and marketing information.  The responses to the questions and the results generated from the campaign will yield more accurate target lists and increased sales.
Produces Traffic
Mail can be used to reach only those people who live within a certain radius of a store to encourage them to visit.  Mailings can be used to promote new store openings, sales or special events.  Including coupons or vouchers provides more accurate feedback.
Provides Service
Mail provides a way to remind customers that purchases are appreciated and additional purchases are welcome.